It's a great time for young people throughout the globe. Because, technology has made it easy to keep them informed all about changes and developments all around the world.
Bangladesh, the best place of entrepreneurs
---
Dr. Jonathan Ortmans
Published:
2020-10-25 18:25:00 BdST
Update:
2022-12-07 02:19:01 BdST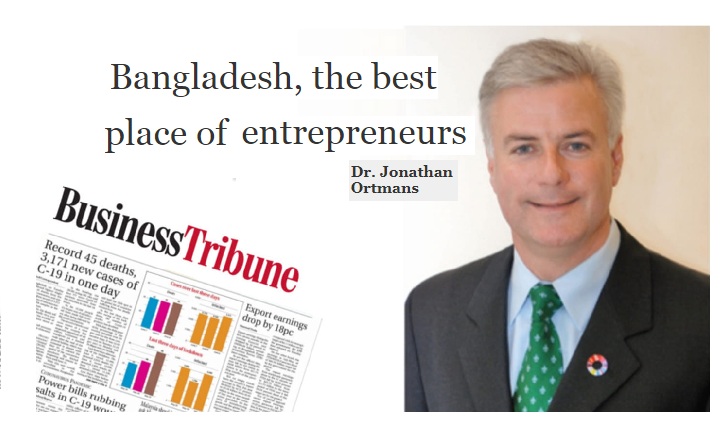 Firstly, I like to express my sincere feelings with the words that I am really proud to be in Bangladesh—a country of potentials whose economy is mostly lead by the entrepreneurs of young generation.
I am also glad to see that the government of Bangladesh is performing very well in entrepreneurial sector. I have seen here a lot of Bangladeshi young people with high level of energy and enthusiasm apart from their ability to capitalize on entrepreneurship.
So, I think it is good time for this country to explore its entrepreneurial prospects and capacity. I learnt a lot about the depth and diversity of Bangladeshi culture which may be a great asset for global society as well. I saw here tremendous laugh, energy, joy, enthusiasm among the students as well as other people of the country.
I am really pleased to have a lot of conversations with young students who want to be entrepreneur in the near future. I visited a good number of innovative projects which came from the young students. It seems that they have unbelievable talent. And I have no doubt that Daffodil International University (DIU) is playing a good role for spreading entrepreneurial mindset among the young generation of the country.
It's a great time for young people throughout the globe. Because, technology has made it easy to keep them informed all about changes and developments all around the world.
Bangladeshi students can learn from other universities of the world because of the internet. We launched here Global Entrepreneurship Network (GEN) Bangladesh Chapter. So, these students can connect easily with GEN. Students can also work with GEN Bangladesh as voluntary basis.
I invite the young people to join the Global Entrepreneurship Week (GEW) which is observed from 12-18 November every year. It's a global network for entrepreneurs where more than 170 countries are connected. It's a nice opportunity for Bangladeshi young people to sign up in genglobal.org.
Then everybody can create his own profile in this site. And they will get access to it to use all data and information.
When I was a student of a university, I dreamed to change the world along with my friends. That's why we wanted to be an entrepreneur. But at that time the problems were that if you want to be an entrepreneur, you had to work for a big company.

But this is the time for young people of Bangladesh to be an entrepreneur. Here my question is that do you want to be successful in your life as an entrepreneur? If so, please try to know how to make sacrifice of doing well. Please try to be a social entrepreneur as well. I like to say that please value your system. Any entrepreneur in 2019 is highly different from any previous time. Now we are passing the incredible time for the young and it is also the time to see the rise of the rest. Who are the rests? The rests are all the nations inspiring entrepreneurial communities and the eco-system throughout the world. It is the rise of communities and countries who have tapped into the creative potential and it is the rise of a mass number of entrepreneurial experiments.
What happened in the last 10 years? When I was an entrepreneur and started my first company, all the people who acted as the entrepreneurs got into entrepreneurship from the Business School. Now when we think of reforming our company, we create team and conduct experiments. In fact, starting a business is nothing but the testing of an idea and guessing what is happening. You can never fail. You can get unique result from the experiments.


Bangladesh is now a country of huge young population i.e. it has a strong workforce. One-third of its population is you the young people who are capable to work right now. And I feel the strength of this young people who can make any revolutionary change in the economy of this country. I have already known that many young Bangladeshi people are becoming successful as entrepreneur and many young people are interested to be an entrepreneur. So, there is no doubt that Bangladesh will be changed within a very few days based on the capabilities of these young people.
One day Bangladesh will be known as a country of entrepreneurs. We have commonly known that Silicon Valley or Israel is the best place for entrepreneurs. But the day is no far when Bangladesh will be the best place for entrepreneurs.
I would like to tell to the young generation of Bangladesh that you forget the future, because none can see the full-face of the future. So, utilize your present period. Please just think that people said Titanic would never be sunk, Trump would never be the President of America, Bob Dylan would never win a Nobel prize. But all of those predictions have now proven as failed. So, give importance on your today's work. Be creative, global, open minded, curious and network builders.
Nowadays we see that young people has been fallen into depression about their career in the whole world.
It's happened because technology is changing the world rapidly. Young people cannot cope up with this changes. Besides these, old people always show depression about career. All of those make them confused. They cannot realize their inner strength. Please don't be upset. Be an entrepreneur.
The economy of Bangladesh is rising. No doubt that the entrepreneurs have a lot of contribution to the process of this economic development. If we want to keep this economy sustaining, we need more and more entrepreneurs, because entrepreneurs create a lot of employment.
To be an entrepreneur, it is not necessary to be a graduate from Business School. Any student from any discipline can be an entrepreneur, because, I strongly believe that all of young people are creative.
Lastly I want to say that unpredictability and uncertainty in the world is alarmingly increasing. So, I will repeat that we never ever imagine that Trump will be the President, but he is. So, young entrepreneurs should never disappoint about their future. They should just do their work.
(The article is a summary of the Speech delivered by Dr. Jonathan Ortmans on 16 February 2019 in the 17th Foundation Day of Daffodil International University, Dhaka.)
The writer is Founder and President, Global Entrepreneurship Network (GEN)
---
---
---