Impact of social media on young generation
---
Published:
2023-01-18 13:21:33 BdST
Update:
2023-05-28 11:27:09 BdST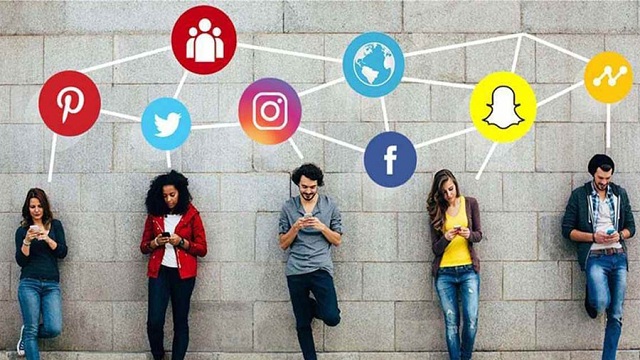 Social networking is a major time sink for young people. Additionally, they are
more vulnerable to mental illness, low self-esteem, and peer pressure. Numerous
studies have linked increased social media use to an increased risk of sadness,
anxiety, sleep issues, eating disorders, and suicide.
An online service, platform, or
website called social media is a network of interpersonal contacts in which users
can express their interests and take part in activities. The user gets exposed to
personal information and other necessary content via social media. Online
community services including chat rooms, forums, web logs, and bulletin boards
are also occasionally referred to as social media. Social media is a personal service,
but, in a broader sense.
Online services, on the other hand, focus on groups. A
person is required to socialize by sharing his or her ideas, emotions, and human
affairs with those in his or her own network when using social media, which is
typically a form of specialized website built on social ties.Young people spend a
lot of time on social media.
They are also more unsafe to peer pressure, low self-
esteem, and mental illness. Several studies have found links between increased use
of social media and the risk of depression, anxiety, sleep problems, eating anxiety,
and suicide.
Male and female depression rates rose by 21% and 50%, respectively, between
2012 and 2015. 92% of adolescents and young adults had smartphones by 2015.
However, as smartphone use increased, so did depressive symptoms. High levels
of depressive symptoms rose by 33% between 2010 and 2015, according to a 2017
survey of students in eighth through twelfth grades.
For girls in this age bracket,
the suicide rate rose by 65%. Male and female depression rates rose by 21% and
50%, respectively, between 2012 and 2015. 92% of adolescents and young adults
had smartphones by 2015. However, as smartphone use increased, so did
depressive symptoms. High levels of depressive symptoms rose by 33% between
2016 and 2017, according to a study of students in eighth through twelfth grades.
Online chat programs are a source of evil because they let the devil in, spread
misinformation and dissent, and facilitate unethical behavior. Social media is
becoming an addiction for everyone, from young toddlers to the elderly.The
elderly are in a bind. Experts claim that "addiction is any behavior that negatively

affects your Despite being aware of this, you are unable to break the habit due to
life. online accessibility via Addiction is used to describe use of social networking
sites and screen time on contemporary devices. It is preferable to stay away from
social media because it is dominated by unlawful topics. unnecessary purely for
amusement and fun.
pursuing activities away from social media are prohibited by
law and unacceptable to both men and women in life.Social media and modern
network technology are readily available free platforms.Men have become
addicted to social media, but women are also making the most of it. Previously, it
appeared that only men used the internet, but today, the The situation has altered,
and women are now participating in this modern race.
In the modern period, social
media has been found to occupy 68 percent of the time spent by women, compared
to 32 percent of men. Social media's main objective is to promote awareness about
the the entire demonic and misleading system, but most significantly, 80 percent of
people in today's society of the social injustices, agitations, and breakdowns in the
family structure are brought on by social networking.When they can't always see
their pals when they want to, it helps them stay in touch.Social media keeps you
informed about the significant events happening right now across the world or
possibly in your neighborhood. Knowing everything with only a click of your
finger is a huge benefit. The neighborhood is the ideal setting for young people to
express themselves in ways that they aren't allowed to do in public. The youth feel
better about themselves and like they have a place in society because of this.
The best thing is that many friendships can start on the social platform, which aids
in the development of social skills. It is used to converse with friends as well as to
discuss academic subjects. According to certain studies, social networking can
improve a person's quality of life and lower health risks. Many people claim that
social networking has not been a bad thing for them, and schools are beginning to
view it as a teaching tool (Thelwell, 2006). Students' technological proficiency is
enhanced by using social networking, which also exposes them to a wide range of
viewpoints. Additionally, it has improved communication abilities and makes it
possible to learn about different cultures from users throughout the globe.
Additionally, students utilize social media to collaborate with classmates online
and to ask for academic help (Reid, 2009). Student participation was 60%.
Social media is now prioritized by today's youth because of how much emphasis
they place on it. They like spending time on social networking platforms but
neglect to prioritize their families, sports, and academics. We can only see a
person's virtual side on social media networks. This implies that they can only
show us the side they want us to see.
Many people attempt to present themselves to
others in ways that they really aren't. Bullying of peers is a behavior that many
young people have, which is acceptable to some level. However, because it can
appear on the newsfeed, cyberbullying has a significant negative impact on the
other peer.Facebook Depression, an emotional disorder linked to social media use,
is one of the most well-known adverse impacts of social media on youth.When
someone is pushed to feel inferior to their peers on social media, they may
experience: frequently experiences depression.
In a similar vein, people are more
interested in learning. rather of taking time for themselves, people tend to do what
others are doing. the people who more frequently use social media been affected
by anxiety and despair as a result of it negatively impacts their emotions and
mental processes.Youth, especially teenagers and adolescents, are particularly
vulnerable to some aspects of life's growth and development in the modern era.
The effects that social media use has on these kids should therefore be of particular
concern. significance to every educated adult.
If not acknowledged and dealt with
right away, these The risks of social media's detrimental effects on people's health
and social wellbeing every teenager and adolescent. Studying, working, and living
in general require good mental health. private life Therefore, it is advised to spend
no more than 30 minutes every day instead of spending the entire day online.
Additionally, parents need to have wholesome dialogues with their children and
instruct them on how to handle the circumstance.
Department of public administration Comilla University
---
---
---