Celebrating 100 Years of the Bangladesh University of Textiles
---
MD SHAH ALOM
Published:
2021-12-23 08:31:49 BdST
Update:
2023-02-05 06:18:10 BdST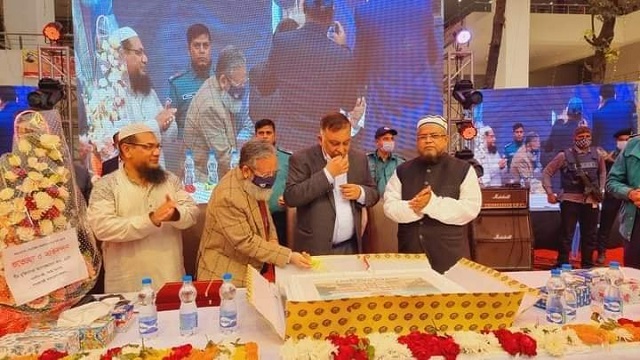 a grand "University day" party on December 22, 2021 at university premises in the capital. The University had started its journey on 2010, had a glorious past history. It was established on 1950 as College of Textile Technology. Since then it has been contributing a lot in economic growth of Bangladesh. Graduate from this University help Bangladesh textile industry to find its identity in global platform.
butex-100
Bangladesh University of Textiles is the only public university among all textile universities in Bangladesh established in order to meet the growing need for advanced Textile Engineering education in Bangladesh as well as in the world.
History:-
British Weaving School [1921-1935]
East Bengal Textile Institute [1935-1950]
East Pakistan Textile Institute [1950-1978]
College of Textile Engineering and Technology [1978-2010]
Bangladesh University of Textiles (BUTEX) [22 December, 2010- Present]
it is the only digital university of Bangladesh. As the birthday of the university the day 22nd December has been observed as 'BUTEX Day'.
butex-day
On behalf 'BUTEX Day', the University launched series of programs and activities, beginning with a celebration in University play-ground. University invited all of its stuff, students, alumni, the local community & important political leaders on the event. Professor Md. Abul kashem. Vice Chancellor Bangladesh University of Textiles announced the start of the event by cutting Cake with Teacher, Students & senior leaders of BUTEX alumni, which was followed by a rally. Later, an open discussion took place where veteran textile engineers, leaders of the ex-students community, deans of different faculties gave their valuable speech on the occasion.
Home Minister Hero's Freedom Fighter, Asaduzzaman Khan Kamal MP were present as a chief guest on the anniversary program .

Professor. Dr. Shah Alimuzzaman Belal ,President, BUTEX Teachers Association ;BUTEX alumni,ITET former President, Engr. Mozzafar Hossain MP; Engr.Shafiqur Rahman President, ITET; Engr Masudur Rahman, President IEB Textile Division; ITET Secretary-General, Talukder Shakhawat; Engr. Salim Reza, Sr.Vice President, ITET were present at the anniversary program.
In the program, Speakers said, Bangladesh University of Textiles an ideal institution with international recognition that it will fulfill the future requirements of textile sector. BUTEX alumni doing good in textile sector and contributing country's economy.
---
---
---