JCI Bangladesh gets a new board for 2023
---
Published:
2022-12-30 16:19:51 BdST
Update:
2023-05-28 11:59:10 BdST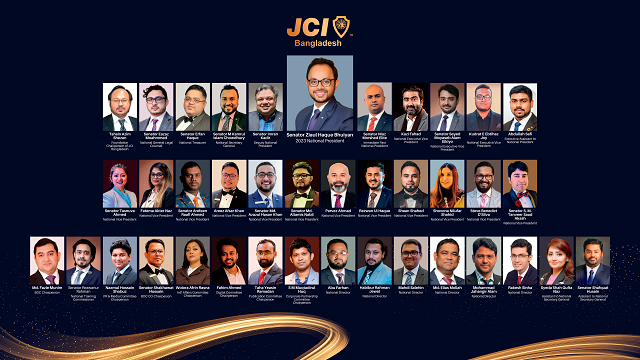 The 2023 National Governing Body of JCI Bangladesh has taken oath at the 2022 General Assembly. This historic event took place at the Le Méridien Dhaka on Sunday, December 25. JCI Bangladesh's Past National President Sarah Kamal conducted the election as the election commissioner.
In the new board, Ziaul Haque Buiyan is elected as the 2023 National President, Niaz Morshed Elite as the Immediate Past National President (IPNP), and Imran Kadir as the Deputy National President.
The 2023 National Executive Vice Presidents are Kazi Fahad, Seyed Mosayeb Alam Eikiyo, and Kudrat E. Ebtihaz Joy.
M. Kamrul Islam Chowdhury is the 2023 National Secretary General, Erfan Haque is the National Treasurer, Eazaz Mohammed is the National General Legal Counsel, Tahsin Azim Shezan is the Foundation Chairperson of JCI Bangladesh, and Abdullah Safi is the Executive Assistant to the National President.
The 2023 National Vice Presidents are Tasnuva Ahmed, Fatema Akhter Naz, Arefeen Raafi Ahmed, Areez Afsar Khan, Md. Azazul Hasan Khan, Md. Altamis Nabil, Parvez Ahmad, Rezwan Ul Haque, Shaan Shahed, Shovona Shahid, Steve Benedict D'Silva, and Senator S. M. Tanveer Saad Akash.
Among other appointees, there are Md. Fazle Munim as the BDC Chairperson, Rezwanur Rahman as National Training Commissioner, Nazmul Hossain Shobuz as PR & Media Committee Chairperson, Shakhawat Hossain as BDC Co Chairperson, Wolora Afrin Rasna as International Affairs Committee Chairperson, Fahim Ahmed as Digital Committee Chairperson, Taha Yeasin Ramadan as Publication Committee Chairperson, and S M Muqtadirul Huq as the Corporate Partnership Committee Chairperson of JCI Bangladesh.
Abu Farhan, Habibur Rahman Jewel, Mahdi Salehin, Md. Elias Mollah, Jahangir Alam, and Rakesh Sinha are the 2023 National Directors. Syeda Shah Gufta Naz and Shafquat Husain are Assistants to the National Secretary General.
JCI is an international, non-profit, non-political organization for people between the ages of 18 and 40 that helps them become better leaders.The organization is found in over 100 countries and has a membership of more than 200,000 across the world.
Here, JCI Bangladesh is the country's national organization. It consists of over 35 local organizations with over 4,000 members.
---
---
---