Syed Alamgir is a Bangladeshi business executive
"A market leader must behave like a leader"
---
Published:
2021-02-28 21:14:19 BdST
Update:
2022-12-07 02:44:55 BdST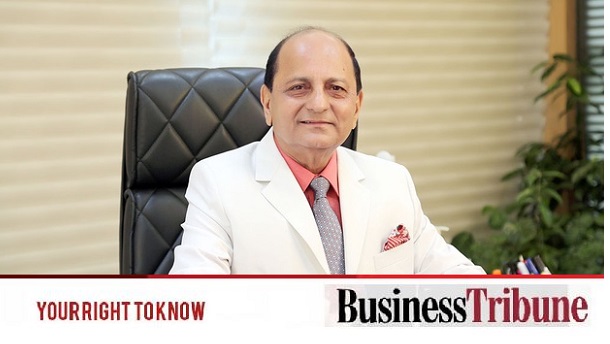 Syed Alamgir is a Bangladeshi business executive. He is renowned for incorporating the halal concept in the FMCG category. He is the first person to be acknowledged as "The Marketing Superstar" in Bangladesh in the year 2019 by renowned Bangladeshi Channeli and Brand Forum. Presently, he Joind Akij Ventures as Group Managing Director and Chief Executive Officer (CEO).
Alamgir started career in British Pharmaceutical Company May & Baker (currently Sanofi Aventis) in 1976. He also worked in Pegasus Shoes, Jamuna Knitting and Dyeing, Aromatic Cosmetics Ltd.
Alamgir was the pioneer of concept of 100% halal soap in Bangladesh toiletries industry. Professor Philip Kotler has mentioned the positioning of 100% halal soap idea in his Principles of Marketing book.
Alamgir is serving as President of Bangladesh Vacuum Salt Manufacturers' Association, Bangladesh Sanitary Napkin & Diapers Manufacturers' Association, MBA Association of Bangladesh, Bangladesh-Greece Chamber of Commerce and Industry (BGCCI).
For Alamgir's contribution as a business leader, in October 2018 he has been selected as an advisory of United Nation board member for Bangladesh. Syed Alamgir shares his thoughts on attaining and retaining market leadership
Business Tribune: You have had a remarkable career in a number of reputed companies. Could you elaborate upon your experience in the marketing sector? What are a few of the key lessons that you believe is necessary to be successful in the field?
I started my career right after I graduated from Institute of Business Administration, the University of Dhaka with my MBA degree in 1976. It was a long journey, and not always an easy one. I've had a long and successful career that I had developed on my own. I had to work diligently to reach this position. I joined as a Regional Manager and worked up the ladder to become the Managing Director of the company. However, that every second of this journey has been immensely enjoyable and eventful. Looking back, I see nothing but success in my professional career. My career started with a British pharmaceutical company; it was previously known as May & Baker and is now known as Sanofi Bangladesh Limited. Even when I was working there, I thought it was one of the most innovative and successful companies in generating newer molecules. I was on my way to becoming the Managing Director but I felt as if that was not the right direction for me. The pharmaceutical sector, for me, is a very small arena and pharmaceutical marketing is a different world. I wanted to explore a larger arena in terms of marketing operations. This led me to move to the USA during the early stages of my career.
After staying in the USA for a while, I realized I did not like it there either. It is an ideal premise to start your career. Still, I knew I had to move to the next phase of my career. After coming back to Bangladesh, I joined Jamuna Group as the Group Marketing Director. I introduced 100% halal aromatic soap which created a lot of buzzes. It is considered one of the best marketing success stories in this region and was included in the textbook "Principles of Marketing" authored by Dr. Philip Kotler as a case study.
When I transferred to ACI in 1999, it was a small organization with only two products; I introduced a plethora of products. ACI went from being a small organization to being one of the largest and recognizable. I only had a few people working for me when I first started out. Now, over 10,000 people are working for me.
In order to be successful in this field, patience is very important. Every event in your life has a correct time and place. As a student, the sole focus should be on education. I was never interested in going out with friends or going to the theatres. I was very focused on receiving the best education and being a brilliant student so that I can make my parents proud. I had taken whatever I was doing at any moment very seriously. This is very important when you want to succeed in any field.
Business Tribune: ACI Pure started with salts in 2005 and has expanded to a number of items including spices, oils, and pulses. Could you detail the beginning and expansion of the company?
The people of Bangladesh were consuming salt full of dirt and harmful elements for years. When I went abroad, I saw they had the salt of excellent quality. So I started wondering why we weren't producing such purified salt. I went on to conduct research and engage in discussion with experts in order to find out the proper process of getting 100% dirt-free iodized salt. I brought up the idea to the board after doing my research, and now 8 million households across the nation are buying this product. ACI salt was widely considered to be the best brand among all food and beverage categories after it was introduced. Even now, it is known as the best in the subcategory of salt. This has given ACI some serious mileage. There are many products required in the kitchen like flour, rice, spices, and many more. We are trying to provide all these items, especially milk with the help of Fonterra, a dairy brand from New Zealand.
Business Tribune: Your products are popular for their quality, How do you ensure a quality product?
All of our products have to be of the highest quality. We do not compromise on quality or accept anything below our provided guidelines. This is why we only consider products catering to the needs of the general population. We have ventured into pulses, as the people of this country require rice, lentils, and beans. Therefore, we are introducing pulses of high quality in an affordable price range. Our business is notable for expanding because our products are everyday household products. A company like ours always faces some form of competition. We make adjustments accordingly but remain true to our promise of delivering a standard product. We would rather adjust in terms of our profitability rather than the quality or even the affordability.
Business Tribune: What needs to be a market leader?
To be a market leader one must offer the best quality product, and then the marketer needs to keep searching for edges over competitors.
Any false hope would not take a product far as it is impossible to fool millions of people for long, believes legendary marketer Syed Alamgir, Akij Ventures as Group Managing Director and Chief Executive Officer (CEO)..
In an interview with Business Tribune, the man behind a large number of products leading the market said, "A market leader must behave like a leader, I cannot sell any second-best product. My product must be of the quality that I myself and my family members can use it every day."
When Alamgir joined ACI Ltd as an Executive Director in 1998, the company had only two consumer products.
Best Quality for Loyalty
ACI offers a complete solution in consumers' daily life. It has dozens of products that gained consumers' trust.
"You encounter many ACI products every day. That begins with Colgate toothpaste in the morning, Savlon soap in the washroom, Pure branded food and kitchen items in breakfast, lunch and dinner, then our mosquito coil or aerosol when you go to sleep," said the marketing mastermind of those.
Syed Alamgir introduced ACI salt in the 2000s with the declaration of 100% purity—free from any dirt—for the first time in Bangladesh.
ACI PURE salt also had iodine fortified that is important for brain development.
When competitors used to offer the same, then ACI marketers came up with the campaign that ACI Salt helps brain development.
Now PURE salt is widely dominating the market with at least one crore packets on the store shelves at any moment.
That is how a marketer must keep searching for edges over competitors, said Syed Alamgir.
However, everything comes after the word "Quality".
He said, ACI has gained the trust of consumers through delivering 100% of what it promises and consumers rightly believe, "The product is by ACI and it would not compromise quality."
Statistically, ACI consumer brands retain around 50% of its initial consumers on average; while in the market 80-85% consumers try something else after their first purchases of any product, according to Alamgir.
"This is a very high rate indeed," he said.
In the aerosol market, ACI's share is 90%, which is over 80% for Savlon.
Any competitor, be it a multinational or local company, runs a campaign for their own product, indeed pushes the market leader further up, consumers end up buying the ACI product in these categories, said Alamgir.
"You too may offer the best quality, you may offer a better price, but consumers barely find an aggregated reason to leave my product. That is support from the heart, consumer loyalty."
"Savlon soap has a moderate market share, but I am sure that this is of the best quality because we procure the best ingredients. Savlon lovers also find it true."
Alamgir believes two types of marketers opt for higher advertisement expenses, brands that have weakness in terms of quality and value for money proposition; and also who want a 80-90% market share.
"I shall be always in search of a need gap. Whatever is important to make your daily life better I will be trying to introduce that, of course, the best quality ones," said Alamgir being asked about his next product plans.
It is important to be good
Alamgir believes it is important to be a good person before being successful.
The same applies to corporate citizens too.
ACI's hygiene products portfolio had been there long before the pandemic came in 2020.
In early 2020, sanitising products were extremely running out of supply and ACI did not take any advantage to price unfairly.
"I have been saying that it is time to survive together, profits would follow through later," said Alamgir.
Business Tribune: As the top company in the country, how did you handle the Corona pandedemic situation?
At a time when the global economy has been severely damaged by the Corona pandedemic, Bangladesh's economy is turning around again under the visionary and prudent leadership of Prime Minister Sheikh Hasina.
He admired the government how they handled the pandemic situation, especially Prime Minister Sheikh Hasina for her series meetings with district-level officials to tackle the pandemic, also for her support programs for businesses under incentive packages.
"Despite criticism, Bangladesh did much better during the pandemic, and we surpassed India in terms of per capita income," he said.
"It is our responsibility to keep safe and cooperate with the government to fight the pandemic well," he said.
Syed Alamgir also thanks the sales and marketing people because of their frontline hard work to let people avail the necessary products and services at doorsteps.
Business Tribune: How can a CEO or MD, grow His/her marketing career?
Business students' must-read book "Principles of Marketing: A South Asian Perspective" by marketing legend Philip Kotler cited an immensely successful idea of a Bangladeshi professional as a case study.
"If anyone wishes for success, to become a CEO or MD, he must know how to adapt with new things," Alamgir said.
"During our childhood, there were no calculators for us to compute, and now I have one of the largest computer screens in my room. This is adaptability, Adaptability is the key to success!" he said.
Alamgir believes that customers are the kings, and every business professional actually works for them and must learn from them.
Every successful business organisation is constantly scanning the ideas of the people—consumers, retailers, wholesalers and distributors, and that's how they analyse the need gap.
During the pandemic, We understood that people will not focus on beauty soap but on health soap.
As Savlon holds 80 per cent market share of antiseptic liquid, ACI analysed the need gap and focused on antiseptic soaps.
According to Alamgir, the normalcy from the pandemic might not come too soon, and companies must find the need gap to bring in more innovative products now.
To emphasise the importance of innovation, he stated that the health products of Savlon are not actually new. He analysed and understood the need gap years ago.
Savlon's hand sanitizer was introduced in 2009 and disinfectants spray two years ago, and during the pandemic, their demand skyrocketed.
To Alamgir, business is an excellent profession as it holds the most significant opportunity to help people.
He believes that introducing quality products to weed out the fake ones is a great service to the nation.
Alamgir sticks by six values: quality, customer focus, innovation, fairness, transparency and continuous improvement. "These values should follow all Companies CEO and MD."
He believes that key performance indicator (KPI) is not necessary for people as every individual has the immense mental power to go beyond imagination.
"That's why I try to say something new every day and to do something new. Everyone should excel in their capacity."
According to Alamgir, personal values are the number one thing in life.
"You have to be a good person first. There's no point of being successful if you're not a good human being."
---
---
---