Think about customers' needs to succeed in the long run
---
Published:
2021-03-05 18:49:21 BdST
Update:
2023-12-11 22:33:38 BdST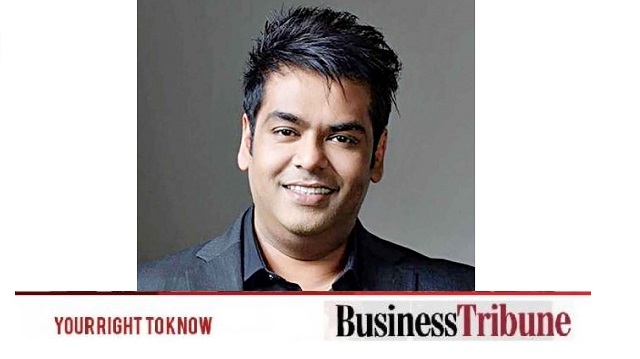 Those who are doing business without thinking about customers' needs may become successful for a short period but never in the long run, said Tanvir A Mishuk, managing director of Nagad, a digital financial service (DFS) provider operating under Bangladesh Post Office.In an interview with Business Tribune
We are seeing success because we were customer-centric from the beginning," he added.
Mishuk said."It's important for a top leader to choose the right medium to reach the right person. To reach mass people,
Unlike other business leaders, Mishuk has always been into business. For example, he used to sell Azad Product's view cards when he was in class three. "Not because of financial need, but I enjoy selling and that's how my career began," said Mishuk, who registered his first company for event management and advertising while completing a Bachelor of Business Administration at North South University between 2002 and 2005. During his university days,hefounded T-Asia Group in 2006, which was involved in diverse commercial fields of technology, tourism, and telecom. For years, he was involved in the telecom industry and remained the founding managing director of Telekom Asia Pte from 2012 to 2019. Meanwhile, he was also the director and CEO of Sigma Telecom from 2013 to 2017. 2017 brought Mishuk's biggest career breakthrough when he ventured into Bangladesh Post Office's monetary service with a promising DFS Nagad.
Business Tribune: What the exceptional measures have you taken that helped NAGAD to succeed quickly?
Tanvir A Mishuk: I have taken some the exceptional measures , Nagad launched the Digital KYC (know-your-customer), a first of its kind for the country, on March 26, 2019, with an aim to ensure hassle-free registration for its mobile applicationHe said, Opening a bank account requires the applicant to fill in multiple forms and provide numerous information, making it a cumbersome process that is hardly worth the hassle for many. This resulted in around 70 per cent of the country's population being left outside the formal financial sector for decades. The biggest challenge at first was bringing more customers on board," he said.
"With Nagad, it's as easy as clicking three photos -- both sides of an NID and a selfie," he added. The fast-growing DFS provider recently crossed a major milestone when its daily transactions swept past the Tk 200 crore mark.
Nagad also introduced SMTAP (send money to any phone) feature in October 2019 and then made it even easier to open an account in February 2020. Now, all an applicant needs to do is dial *167# and follow the instructions.
MILESTONE AND ACHIEVEMENTS OF NAGAD
Introduced first digital KYC in the industry that helps to open accounts within a minute
The first financial company in the country has verified entire accounts with the NID database
Opening accounts via mobile operators, first in the world, takes few seconds to open accounts
First introduced the product where customer can get money even they haven't Nagad account
Offering 7.5% net interest on deposit & cash-out charge is refunded
Special cash-out charge, Tk 6 every Tk1,000 for entrepreneurs, so far the lowest in the industry
Nagad reached two crore active users milestones and all are verified with NID database
Nagad also introduced SMTAP (send money to any phone)
Mobile financial services (MFS) were first introduced in Bangladesh when Dutch-Bangla Bank launched an application in March 2011 which was later rebranded as Rocket.
Business Tribune: How can those who are not yet getting banking services be brought under the service?
Tanvir A Mishuk: According to a World Bank survey, 52 percent of money is not covered by the formal banking system. If the cash out charge cannot be reduced, it will not be possible to bring it into the formal banking system. People still put money under the pillow. If this informal money is added to the formal economy, then think a little about where the GDP will go. Owners of 52% of the money, however, do not pay VAT. There is no alternative to MFS to bring this money into the banking system. Because the operating cost of banks is much higher. The cost of each transaction is about 130 rupees. The only easy option to deposit 10-10 thousand Taka, mobile financial service. A big hurdle here is the cash out charge of Tk 20,000 per thousand. Either way it has to be brought down to single digits.
Business Tribune: What is Nagad planning to do to improve the quality of customer service?
Tanvir A Mishuk: 'NAGAD' is currently the second largest provider of mobile financial services in the country. NAGAD accounts for 30 percent of the market. We have been able to break the monopoly of MFS services. In 2021, 'Nagad' wants to occupy 50 percent of the market. It must be done for the country. If a person has 90 percent market share, everyone is a hostage to him. Balance is needed. We want to go to that equal position.
Business Tribune: What is your vision & want to see Nagad Next Year ?
Tanvir A Mishuk: Sharing his vision, Mishuk said he wants to make Nagad the national wallet within the next year."People do not need to carry a national identity card if they have a Nagad account. People will be able to avail all kinds of government services through Nagad," he said.
Currently, 33 percent of people are being served by banks and MFS. Nagad is aiming to bring 70 percent of unbanked people under financial inclusion within the next two years, Mishuk added.
Ontheotherhands, Goverment has distributed 100% of its primary and mass education scholarships in Nagad, the largest scholarship distribution program in South Asia. About 75 per cent of the allowance of the Ministry of Social Welfare will be distributed through 'Nagad'. This is possible because of our fast delivery of services. Due to security, the government is distributing all the money through 'cash'. I hope that in 2021, everyone will transact through 'cash'.
Business Tribune: What initiatives have you taken to reach mobile banking services in remote villages?
Tanvir A Mishuk: Mobile financial services ( MFS) have not yet reached the people. It was difficult to calculate, the cost was much higher. Send money is still charged. Shubhankar's hoax in the name of cashback. Ordinary people can't think so much. 60 to 75 percent of the people live in remote villages. The product should also reach these simple people in a neat and clean way. So we are the only ones giving the opportunity to open an account by dialing * 167 # on the feature phone as well as the smartphone. For this reason, 40,000 to 50,000 customers are being added to 'cash' every day.
Business Tribune: What should be done to bring retailers under banking services?
Tanvir A Mishuk: In order to reach banking services to retailers, charges have to be fixed according to the type of service. A maximum charge of 20 paisa can be levied from a potato seller who sells 1kg of potatoes and earns 2 poisa . In addition to wholesalers, retailers will also come under the MFS service. Apart from this, there is no alternative to increase the limit of mobile banking transactions to build a cashless society. All the information is being provided for opening an MFS account like opening a bank account. Our KYC is more secure. Even then the transaction limit for MFS has been fixed. It should be lifted.
Business Tribune: What will NAGAD contribute to launch interoperability?
Tanvir A Mishuk: Without interbank transaction system, there would be no economic freedom without interoperability. The customer has been held hostage in one place. If a customer of one bank cannot send money as to another bank, you do not have that freedom. For this, interbank transaction system must be introduced. We have proposed to Bangladesh Bank, the first regulator of mobile financial services, to introduce interoperability. Interbank transactions must be free of charge. Bangladesh initially set a charge of Tk 6 and Tk 4. MFS cash out charge is about 20 TK. This charge is nowhere in the world. With a charge of about 20 TK, if another 8 TK (if one thousand TK costs 28 Tk) is not possible for our economy in any way. I think Interoperability should be introduced tomorrow. If needed, Then it can be continued for the next 5 years without any charge. This is why we want to make the Prime Minister's vision financial inclusion.
There is no option but financial inclusion to become a developed country. Because one of the main conditions is to bring people into financial inclusion. Economic freedom is everyone's right. Thus, if a cash out charge of around 20 Tk is taken, I will not be able to bring people under banking services. For these reasons, cash out charges should be reduced to single digits.
Business tribune: Do you believe digital banking will also transform business banking?
Tanvir A Mishuk: Personal banking has been shifted to digital banking across the world but corporate banking has remained largely physical. There are a lot of formalities in business banking that are possible to conduct remotely, therefore business banking will remain physical for the foreseeable future.
However, digital banking can play a huge role in bringing Micro SME(s) across the country under financial inclusion. Due to limits on transaction amounts, they are incapable of transferring through MFS. On the other hand, banks discourage them to open an account for fear of losses. Digital banking provides a great opportunity to bring them under formal banking. TA
Business Tribune: Are you happy with the way Nagad has grown so far and the milestones it achieved?
Tanvir A Mishuk: Of course! In a short period, the company has established itself as one of the fastest-growing MFS in the world. We are very happy and if we can sustain this pace, we will be able to attain a 50% market share by 2021.
Business Tribune: Why has Nagad been so successful despite having so many competitors?
Tanvir A Mishuk: It all depends on how you bring a product to the market. We researched the problems in the market before commencing with the solutions on our hands. We were bold and innovative with products like digital KYC and introduced a service where customers can get money even if they don't have a Nagad account. We ensured total freedom in sending and receiving money and facilitated opening accounts within a minute. The secret recipe to our success is innovation through a sustainable business model. We are also now offering huge interest on the customer's deposit and introduced the lowest level of cash-out charge for the entrepreneurs, Tk 6 for every Tk 1,000 cash-out and all these facilities without a business model help us to get the initial success.
Business Tribune: What qualities does A Business leader to have in order to be successful in the long run?
Tanvir A Mishuk: Those who are doing business without thinking about customers' needs may become successful for a short period but never in the long run, said Tanvir A Mishuk, managing director of Nagad, a digital financial service (DFS) provider operating under Bangladesh Post Office.
"It's important for a top leader to choose the right medium to reach the right person. To reach mass people, we must communicate using mass language,"Mishuk said.
"I believe that the future is FinTech," he said, adding that he will be working in the sector for the next five years. To Mishuk, the leader of the country's fast progressing FinTech company, calculated risk is a must.
"I do not agree with the 'no risk, no gain' policy. One must take risks, but that must be calculated with several backup plans that includes solutions to the problems," he said.
"If you order from the top; sometimes that might be successful, but it fails most of the time. It will be successful if everyone gives their proper input to the decision," he said. bIn doing that, a CEO or a top leader must have the mentality to accept different views.
"If a top brass expresses his personal likings, the team will be biased. Such a person cannot run a team and cannot be a leader," he added.
Leading a technology-based company in Bangladesh is a huge challenge and Mishuk pointed out two key setbacks -- scarcity of resourceful people and senior investors.
The human resource problem will change in the next five years but it's very difficult to make the elder investors understand why they should invest in tech companies.
For newcomers to the corporate world, Mishuk said that listening to others will not change your life. Only if you are dedicated to your work and enjoy, it will change your life.The Nagad top brass also believes that simply networking is not enough.
"In networking -- dedication and passion are very important to keep it alive for long. Networking works when people accept you. You must show the commitment," he said.
He also believes in active listening with passion, patience and understanding.
"I spend five hours a week talking to the grassroots of the company. I sometimes get such a great solution from them which I didn't get from CXO level officials," he said.
"Don't think about what you are listening to and from whom. Try to list it all and accept only those you found helpful. There must be judgement; otherwise, you might be misguided," he added.
Business Tribune: What is your advice for MFS organizations?
Tanvir A Mishuk: Bring cashout charge down to single digit. So that there is real financial inclusion. The Prime Minister's vision is to work together to build a developing country. Contribute to the development of the country by reducing the profit a little.
---
---
---