Kamal Quadir: The artist who became a fintech guru
---
Published:
2021-03-01 14:37:51 BdST
Update:
2022-12-07 02:19:45 BdST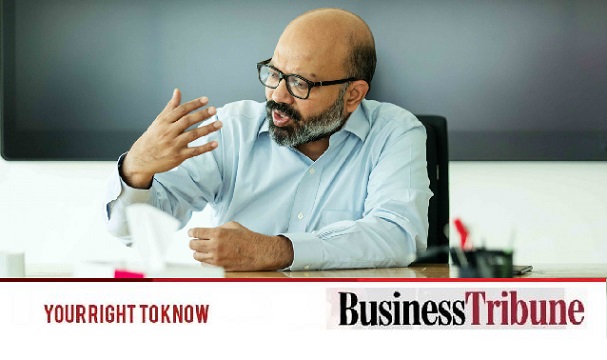 Kamal S. Quadir is a Bangladeshi American entrepreneur and artist best known for introducing e-commerce in Bangladesh by founding CellBazaar, an electronic marketplace which, after reaching 4 million users, was acquired by Norwegian telecommunications operator Telenor in 2010. CellBazaar later was rebranded as ekhanei.com.
Quadir is currently heading the company bKash, which provides financial services through a network of community-based agents and existing technology, including mobile phones. bKash is world's second largest and fastest growing mobile financial services company.
Quadir is a founding member of Open World Initiatives, a Lausanne, Switzerland-based organization of young thinkers. He is involved with Anwarul Quadir Foundation which recognises innovations in developing countries. He is a First Mover Fellow of The Aspen Institute. In 2009, TED selected Quadir a TED Fellow and the World Economic Forum recognised him as a Young Global Leader.
Kamal Quadir shares the story of his strenuous journey to success in an exclusive interview with " Business Tribune"
Business

Tribune

: Could you share the story of your strenuous?
Kamal Quadir: I wanted is to be an artist. I trained as an artist. I began career as an artist. And now I am a FINTECH preceptor, heading the country's largest mobile financial service bKash(FSB).
At an age when I could barely move my limbs lying in crib, my parents' house completely looted and was made the makeshift headquarter by Razakar with the help of Pakistan army. As the war of independence started on March 26, 1971, our family left Jashore (then Jessore) house because it was too close to the cantonment and risky to live, especially because of his lawyer father being associated with the Awami League politics. So We moved that serene place called Narail by which lapped away the charming Chitra river.
After the war We came back to find their house had nothing left. It was, literally, a new beginning for me. From the scratches.
But rebuilding life was cut short again when My father died in a boat accident in Manikganj within six months of the end of the war. I was only 16-month-old.
Life, one again, offered a new kind of struggle for us – We are the ten siblings, I was the younger of them.
It was no time for the brothers and sisters to laze around the house. So We went out looking for work.
we were all good in studies. We got good scholarships. So education came virtually free for us. And Our creative brain saw them through to the top rungs in the class.
Business

Tribune

: Why did you decide to move back to Bangladesh?
Kamal Quadir: I am from Bangladesh. I was born in the year Bangladesh became independent. I have a very strong connection to Bangladesh. I moved to America in 1990, and now I go back to Cambridge, Massachusetts every three months or so.
I'm comfortable working in both places. But things are really happening here in Bangladesh. And I am motivated by working for social goals – making direct, visible improvements in people's lives. Here, you can do a project that touches millions of people, and though it may only be one dollar per person, you create a million dollars of value.
I thought of taking the SAT, the standardized test for college admissions in the US, got a good score, secured a scholarship went to Oberlin College in Ohio.
Oberlin is a liberal arts college. There he trained in art and economics.then took up a job with the New York Chamber of Commerce, raising funds from corporates to run Inner-city school development programme basically improving local schools.
But all along I wanted to be an artist. So came back to Dhaka to sell arts and held two exhibitions at Alliance Francaise and Shilpakala Academy.
At such an exhibition I happened to meet then CEO of oil company Occidental who offered me a job.
"I thought it will offer me a good chance to know Bangladesh and how it works and joined Occidental. I worked there for three years," Kamal said. "I started seeing the connection between gas burning from gas fields to rice being produced. In between fertilizer is produced."I felt like moving on. Doing something different.
And so me and my elder brother Khalid Quadir, currently the founder and CEO of Brummer & Partners, Bangladesh, set up an animation company, GlobeKids, to make cartoons.
"We trained 70 animators all of whom are established now but we could not meet our expectation. I tried for three years and lost all my all hairs to make the business viable, and failed," smiled Kamal.
I learned a hard lesson. To make such a venture successful, you need a cluster of the business. A stand-alone animation venture is hard to sustain because you do not get enough of backward and forward linkage. You need local market, you need local TV support. You need certain ecology to support an industry like animation.
So he hung up shoes and set out for doing an MBA at the Massachusetts Institute of Technology (MIT). And in between his studies, Kamal started working with a private equity fund named Insight Venture.
"After completing MBA, I started thinking what I really want to do in life. It was then clear to me that I belong to Bangladesh and I need to go back," Kamal narrates sitting in his Sena Kalyan building office.
Business

Tribune

: When Does a new journey begin in bangladesh?
Kamal Quadir: So, on August 14, 2005 I landed with Dhaka and with that began the journey of the country's largest mobile financial service that has made financing inclusive for millions, largely the poor.
But first he thought of the mobile phone as a democratizing tool. Everybody has it, everybody uses it. Then why not make it a tool for business. So that the market failure of supply and demand can be addressed.
With that idea in mind I launched CellBazaar, the first online classified ads platform in Bangladesh.
"I thought that we can do something with that. With this phone you can post what you want to sell, somebody with this phone can also pick up the information that what is available in the market. This thing can solve a market failure and solve a supply demand thing."
"This CellBazaar took me five years to bring a shape. It went very well. A small and cute company with only 19 people." to Then as it happens with any startups, Telenor snapped it up. By that time, I had something else in mind.
Business

Tribune

: When started Bkash or Birth of bKash and what means Bkash?
Kamal Quadir: The rising use of mobile phone gave him the idea that this electronic device can be used in financial transactions. The idea also was aligned with the thinking of the Bangladesh Bank and the government about digital payment settlement to improve financial inclusion at around 2009.
This is also cost effective. Because when a person goes to a bank and transacts, it costs the bank Tk 128. This is simply not viable for the common people like a rickshaw-wallah. A rickshaw-wallah at best transacts Tk1,000 to Tk1,500 at a time and for that if the bank charges him Tk128, that makes no business case. And that is why so many of the poor are outside the financial system.
"No matter how much the bank or the government wants, this model will not allow financial inclusion," said Kamal. "So I thought of a system that would protect the client's interest by remaining fully regulated by the Central Bank and at the same time, reduce the cost of transaction."
With the idea of using mobile phone in financial transaction, he met with Brac's founder Sir Fazle Hasan Abed to during his preparatory work.
"I chose Brac for multiple reasons, one is that it has presence across the country. We need credibility which Brac has. Moreover, Fazle bhai has the vision to create a viable business to serve the poor. This alignment with common philosophy and objective gives a sense of bringing a possibility to make the idea successful," said Kamal.

Brac accepted his idea and he was suggested to go around the world in search of knowledge and idea about what has been happening on the mobile platform.
It was January in 2008.
I started travelling across Africa for multiple times as this kind of initiative was taking place there.
"I learnt a lot from the African initiatives and on August 26, 2008, I made my first presentation to Abed bhai."
Abed introduced me to Brac Bank because a financial institution is required by Bangladesh Bank to ensure regulatory compliances in order to protect the clients' fund.
"After long research, we formed the company bKash at the beginning of 2010 with a 51 percent ownership of Brac. The rest 49 percent share was owned by a company named Money in Motion."
Money in Motion was formed by Kamal, his brother Iqbal Quadir, the founder of Grameenphone, and a few US based investment institution.
The Bangladesh Bank gave license to bKash on 12 April 2012 to operate as a subsidiary of Brac Bank.
And finally bKash launched its journey in 2011 with 37 people. Today it has 1,785 employees.
Bikash" in Bengali means "blooming" or "prosperity." "Kash" sounds like "cash," and "b" can stand for Bangladesh. bKash is about creating financial services for people in Bangladesh who don't have access to banks. Bangladesh has a tremendous mobile network. It's one of the best-networked countries in the world: 97 percent of the population has access to mobile phones. Yet only nine percent have access to conventional banking. bKash is trying to minimize that gap.
Cell phones are like mini-computers: you can maintain a bank account with a mobile phone. We have made a mobile phone-based financial service, which is safe, convenient, and easy to use. I have been helping to build the company since January 2008.
Business

Tribune

: Did your CellBazaar experiences help prepare you for bKash?
Kamal Quadir: At CellBazaar, I learned how to use mobile technology in effective ways, which is helping me tremendously at bKash.
There are many technological innovations taking place all over the world that could improve lives in Bangladesh in many ways. The challenge is finding the right technology and communicating that to 160 million people. Most of them do not have access to the Internet or regular media, and do not read English. Sixty percent of the population doesn't have access to electricity. How do you include them in the technological possibilities? It's a fascinating challenge to work on.
With CellBazaar, we approached this problem by making a virtual marketplace, accessible via the cell phone, so even a farmer in a remote corner of the country can easily and efficiently sell his bag of potatoes. The technology itself is a small piece of the puzzle. Figuring out its execution and limitations is the key.
Business

Tribune

: What's your philosophy for striking at poverty?
The beginning of saving is the ending of poverty.
The reason is that, when you save a dollar, when you say, "I won't die today if I set aside some of today's resource for a future day," then you belong to a different category, because you are planning and making a provision for your future.
Let me give an example to elaborate this issue. When Bangladeshi women who work, say, in a textile factory receive their salaries, one of their concerns is where to save it. They don't have a place to save. They often give it to their husbands, brothers, or fathers for safekeeping. Even though she's the one who earned it, she's not fully empowered with the money she earned. bKash is a tool that can help these women become fully empowered, because it allows people to have digital accounts if they have mobile phones.
Today, Bangladesh has a good-sized middle class. If you look at some of the social indices, it's one of the healthiest countries among the developing countries. The abject poverty where people are starving does not exist in Bangladesh anymore to a large extent. So the poverty we are addressing is a level above that. We believe we've come to a place where if you apply technology, the country can actually take more people to the middle-income world.
Business

Tribune

: There are many aspiring social entrepreneurs out there who are trying to take their passion and ideas to the next level. What is one piece of advice you would give to them based on your own experiences and successes?
Kamal Quadir: Every country, and every community, is very different. What I find is a good way of solving problems in Bangladesh or the US may not be applicable to somewhere else. So a social entrepreneur must figure out, "What is the competitive advantage we have here?"
I spoke of Bangladesh's tremendous mobile network before. But Bangladesh has other competitive advantages. For example, how is Bangladesh able to feed the equivalent of half the US population, from land area that is the size of the state of Wisconsin? We have farms that can be harvested four times a year. Things grow very quickly. If you have a mango seed and plant it, in a few years you'll have a mango tree growing mangoes.
In such a populous country, our biggest resource is our people. When I do a project here, a lot of people are always involved. When I did CellBazaar, I involved hundreds of people to educate millions of people on how to use the technology.
This time, with bKash, which is a joint venture of a US company Money in Motion and BRAC Bank, I am literally deploying thousands of people to teach millions of people how to use bKash. Why spend money on expensive newspaper or television ads that may not reach the target market very well? If I teach common people to go door-to-door to teach people how to use this mobile banking, it is not only creating jobs, it's also giving people first-hand teaching of a new technology which really cannot be taught with those expensive ads.
So finding the advantage and capitalizing on it is the important thing. Think hard and find out, "Is this my competitive advantage?"
Business

Tribune

: What lies ahead?
Kamal Quadir: Being the market leader in mobile financial service, bKash has a tall task of challenges ahead.
"The first is to make more technological investment in fraud prevention," Kamal points out.
"Ours is a robust technological system and yet we face frauds. Interestingly, all the frauds occurring now are social engineering. Fraud pattern is changing day by day and bKash has formed a big team to keep its continuous effort to fight with the changing fraud techniques."
The next challenge is deep linking with the banking system. "bKash is now working on to develop inter-operability system with all banks so that clients can transfer their money to bKash account from their bank account sitting at home. The system was already developed with nine banks.
"We are also working with central bank to expand the inter-operability system," he said.
If a bKash account is connected with a bank account, the cost of mobile financial service will reduce drastically and large number of unbank customers will be able to get banking products in the areas of savings and credits.
Currently, bKash charges 1.85 percent for cash-out through agents but if it is done through bKash app, the cost is reduced to 1.75 percent.
All payment services are free of cost for customers. In future bKash will make payment system even easier like it will not require pin for transactions, rather facial recognition system will do the job.
We developed a new app with completely new investment. Some interesting features included with the app like geo-locking which means customers will get verities of information of their physical location to make economic decisions.
We seeing lots of competitions are coming in the market with new entrants like Nagad and Dmoney.
"bKash will focus on service quality and customer and market centric innovation in order to compete in the market," he said.
Business

Tribune

: Your artwork is in the permanent collection at the Bangladesh National Museum. What is your favorite medium?
Kamal Quadir: I did all my work on silkscreen during my senior year. I thought I would be an artist — and I still think I am an artist. I try to work quite regularly. But now given the time constraints, I prefer working with watercolors. With watercolor, you can think in your mind for a long time, and then execute the art piece in a relatively short period.
I try to use the natural flow of water. If I were painting a landscape of say, the pond in Central Park, and I saw the color on the paper moving a certain way, I try to maintain that. I don't try to control too much. Once the natural shape takes place, I try to find the pond within that shape.
I'll take watercolors with me when I'm traveling, sometimes even on the aircraft.
I hope my children will learn to paint. I would love to teach them when they get a bit older.
---
---
---