Deputy Commissioner of Dhaka won Digital Bangladesh Award 2020
---
Published:
2020-12-15 05:50:03 BdST
Update:
2023-09-22 03:52:41 BdST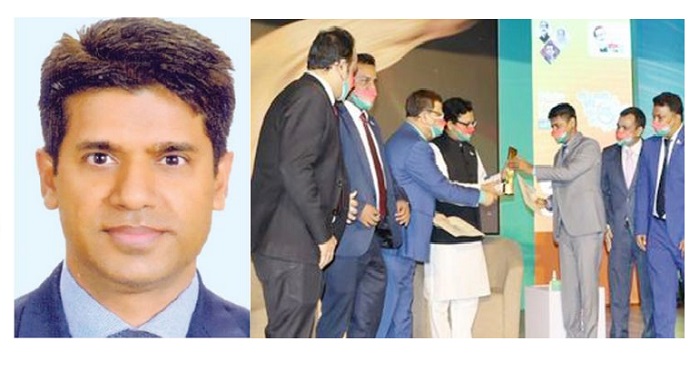 Another achievement has been added to the record of success of Dhaka Deputy Commissioner Md. Shahidul Islam. He has been awarded the national level award 'Digital Bangladesh-2020'.
President Md. Abdul Hamid was present as the chief guest through video conferencing at the inauguration and award distribution ceremony on the occasion of 4th Digital Bangladesh Day, 2020 at Bangladesh Computer Council (BCC) Auditorium this Saturday morning.
State Minister for Information and Communication Technology (ICT) Zunaid Ahmed Palak handed over the medals and certificates to the winners on behalf of the President.
It is to be noted that Digital Bangladesh Day-2020 is being celebrated through various programmes in the District-Upazilas and Bangladesh embassies abroad with the theme of 'Even though I consider it as a distance, I'm still connected'.
On 12 December 2008, Prime Minister Sheikh Hasina announced a programme to build a Digital Bangladesh.
This programme is the principal subsistence of Vision 2021. The main goal of it is to make the country a middle-income one by 2021 and to build a knowledge-based society.
According to the decision of the judging panel for the award, e-Governance (Special Contribution to Citizen Services - Coronavirus is a vision to build a digital Bangladesh to improve the quality of citizen services by ensuring proper use of information technology He was nominated in the categories of Central Aid Management System (CAMS) miscellaneous apps and software based market management, healthcare assurance, online education, digital land management and e-licensing).
Md. Shahidul Islam; This meritorious, honest and smart officer of BCS (Administration) cadre Shahidul Islam as the best Deputy Commissioner of Dhaka Division, He was earlier selected as the Best Deputy Commissioner for National Primary Education Medal 2019. He became a symbol of trust among the 4.2 million people of Tangail. He also tarnished his reputation in the district by taking various effective measures to prevent coronavirus in addition to providing food aid to about five lakh people to deal with the corona situation. As a journalist-friendly deputy commissioner, he has undertaken a major project to accommodate journalists. He has built a modern and aesthetic monument at Tangail, the birthplace of the Liberation War
The people of Dhaka district at all levels have expressed their satisfaction and best wishes for the award to an honest, efficient and humane officer of the civil service.
---
---
---