JCI Dhaka Young conducted 1st GMM
---
Published:
2021-03-08 16:10:37 BdST
Update:
2023-09-22 03:27:32 BdST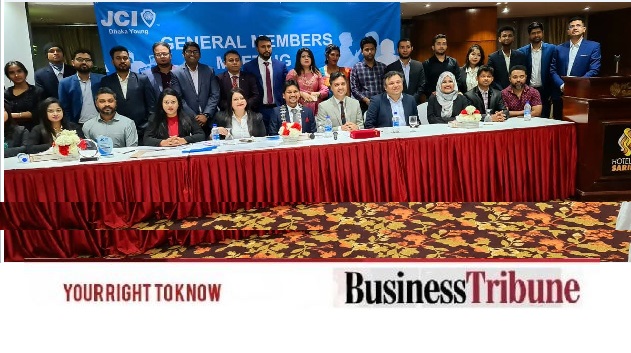 JCI Dhaka Young (DY)is one of the chapters of Junior Chambers International (JCI) Bangladesh. They successfully held their 1st General Members Meeting (GMM) and Chain Handover Ceremony on Saturday, 6 March at Sarina Hotel, Banani, Dhaka. The meeting was presided over by 2021 Local President (LP) of JCI Dhaka Young Nazmul Hossain Shobuz; Local Executive Vice President Sanzida Sharmeen; Local Secretary General, Aneeqa Daiyan & IPLP Imtiaz Choudhury & Chapter Mentor, Imran Kadir. During the meeting with the majority presence of the board members, general members of Dhaka Young, National President, other local chapters board members, NGB members & guests.

IPLP Imtiaz Choudhury; National President, Mr Niaz Morshed Elite, NGB & Others Local Chapters president handed over the presidency chain to the Local President, Nazmul Hossain Shobuz.

The inaugural GMM covered a broad range of agenda including the induction of new members, sharing the 2021 Plan of Action for Projects, events etc. The LP presented all the activities 'JCI Dhaka Young' had conducted in the first quarter and also a comprehensive plan of future projects for this year was discussed by Local Vice President, M Muqtadirul Huq; Local Secretary General, Aneeqa Daiyan & Local General Legal Council, Rabeya Nasir Ovi. Moreover, this year's budget had been discussed by the Local Treasurer, Md. Rafiqul Islam Rumon. Samia Rahman had taken oath as a Local director.

Joining as special guest at the GMM was JCI Bangladesh National President, Mr. Niaz Morshed Elite, National Governing Boards & Other chapters Local presidents.

Junior Chamber International (JCI) is a worldwide organization of young professionals and leaders between the ages of 18 and 40. The JCI Headquarters is in St. Louis, Missouri, USA. As a part of JCI an international voluntary organization, JCI Bangladesh is running its operation is Bangladesh with around 18 local chapters with member base of around 700 and the local chapters are functioning to serve the community, society and in national level.
---
---
---