Pro-Pakistan professional terrorist pistol Zahid active again!
---
Published:
2022-04-05 11:52:07 BdST
Update:
2023-02-05 07:28:24 BdST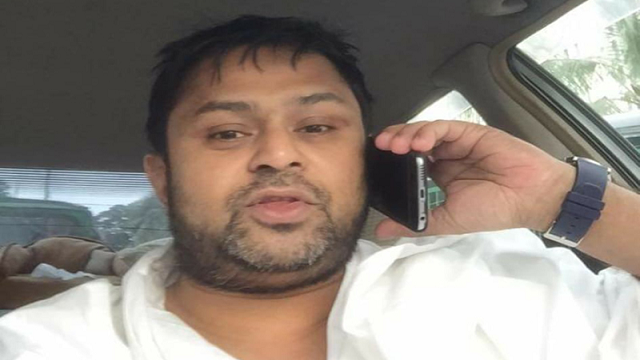 Suddenly terrorist activities in the capital again. The shocking killings of Awami League leader Zahidul Islam Tipu, college student Preeti and doctor Ahmed Mahi Bulbul have taken place in the capital's Shahjahanpur. Home Minister Asaduzzaman Khan Kamal also said that the underworld was involved in these incidents. Meanwhile, professional terrorist pistol Zahid has become active in the capital. Reliable sources have confirmed the matter.
Syed Zahir Ahsan Zahid. Apart from the family name, he is now known as 'Pistol Zahid'. The life style of this formidable terrorist seems to beat any thrilling movie. The blind seizure of power and the arrogant character of Zahid are not limited to his area of ​​residence, but his criminal activities have spread to different areas. The report came up with some startling information about this professional terrorist.
Syed Zahir Ahsan Zahid, son of father Syed Mahbubul Ahsan (deceased) is affiliated with Nazaria-e-Pakistan, an organization that believes in the ideology of Pakistani nationalism and is the Amir of its Bangladesh branch. Involvement of this organization with multiple members of his family exists. Details of Syed Zahir Ahsan Zahid's criminal activities and allegations against him have come to light.
From murder, occupation, domination, illegal firearms, intimidation, litigation, extortion, sedition, syndicate trade, fraud, forgery to crime, these Zahids live in the alleys of the state. Zahid wanted to establish a reign of terror by using family support and his own dominance. Uncle Syed Nasrul Ahsan (deceased), a believer in Pakistani nationalism, was one of the sponsors of Zahid's criminal activities. Ferrari accused Zahid, who has been indicted in multiple cases, had set up his main crime scene around Ramna in Dhaka and Kapasia area in Gazipur.
A woman named Jinat Sufia, a resident of Shantinagar in Dhaka, has given details of Zahid's criminal activities in a petition filed with the Dhaka district administration seeking confiscation of Zahid's firearms. According to the letter, from 2013 to 2021, the woman herself and several members of her family have been living in fear of continued torture, intimidation and eviction of property. In the same letter, he called Zahid a professional terrorist from Siddheswari area and filed several cases and GD against him. After licensing the weapon, Zahid became irresistible. Sufia Jinnah mentioned in her complaint that on July 20, 2013, she filed a case against Zahid at Ramna Police Station for making death threats (No. 1309). And since then Zahid has been climbing more and more.
Zahid also threatened his family member Sufia Jinnah. Sufia Zinat and her husband got angry with Zahid even when he went to ask for arrears. Zahid threatened to kill Suhag Mia, the caretaker of the house, on June 3, 2021 at around 10 pm when he went to ask for the utility of the house. According to eyewitnesses, Zahid and Sohag threatened Mia with disappearance by pointing at the silver-plated Dhaka Metro-G14-6116 plated vehicle with a police sticker at the time. Just like Sufia did with Jinnah and her husband. Sohag Mia lodged a GD with Ramna Police Station on June 21, 2021 (No. 1092).
Zahid's main identity is that he is the Amir of the underground organization 'Nazaria e Pakistan' Bangladesh. This organization was established in 1992 during the first rule of BNP. The main objective of this organization is to spread Jinnah ideology in Bangladesh mainly with Pakistani funds. And Zahid's involvement with this organization is rooted in the fact that Zahid is a believer in pro-Pakistan ideology. Zahid's grandfather Syed Ziaul Ahsan, the Speaker of the Pakistan Provincial Council, and his father Syed Mahbubul Ahsan were employees of the Pakistan Navy. Today's terrorist Zahid has been receiving the patronage of the government since '92. After the death of his uncle Syed Nasirul Ahsan in 2020, Zahid became the head of the organization and his main assistant was his son Jubayer Ahsan. Zahid Gang, a foreign agent sitting in an independent sovereign country, wanted to turn Bangladesh into a terrorist state.
The plaintiff in the case mentioned in his application that Zahid wanted to set up an office of 'Nazaria e Pakistan' by forcibly occupying the house at 23 Siddheswari Lane, Dhaka 1218. Abdul Motaleb Bhuiyan, father-in-law of Zinat Sufia, on 14 February 1956, registered 14.60 per cent of the land on the basis of 1140 Saf Kabla Document registered with Mosa: Mahatab Begum in SARS and 5-storey building in metropolitan survey. Later, on 12 June 2012, Abdul Motaleb died, leaving behind 1 wife, 2 sons and 2 daughters in the abandoned property. Where Zahid has no chance of acquiring any property, he took part in his own name on 16 May 2000 by filing a fraudulent naming and depositing case (1116 / 17-18). The CID (CR Case No. 558/2020), after forging the documents and affidavits made by Zahid, was subsequently investigated by the court. Where the issue of forgery of documents was clearly proved. Zahid forcibly occupied the ground floor of a 5-storey house at 23 Siddheswari Lane. Although it was decided to build the house of 23 Holdings with a new design by the developer, Zahid built a dam on it and Zahid made fake documents to build his dominance. At the same time, Zahid threatened to sue Zinat Sufia and other tenants for violating Section 420/406/48/48/471/508 of the Penal Code and committing a crime.
Abdur Rab Bhuiyan, one of the owners of the same house, described in a statement to the CID on June 7, 2021 how Zahid had threatened to kill him with a weapon. According to the non-FIR No. 69/20 document of Ramna Police Station, the plaintiff in the case, Hasib Mohammad Muhtadi (Rafan, 24), a resident of 23 Holdings, appointed a retired Sergeant Gazi Ashraf of Bangladesh Army for his security. Defended by this, the defendant Zahid filed a false case of carrying arms. Not only that, Zahid vandalized and threatened the CCTV of the security guard's house.
Zahid's terrorist activities were most publicized on 22 August 2020 at 10:30 pm at the Tok Nayan Bazar bypass intersection with a pistol stuck in the chest of local Labor League leader Idris with two accomplices. Although Idris was rescued due to the efforts of the locals, a few days later, Idris' body was found on the south side of the pond of Zahid's various houses and after that Zahid covered his body with his companion. According to the investigation, two months before the murder, there was a dispute between Idris and Zahid over land. Later, Idris started avoiding Zahid. But Zahid, a terrorist by profession, did not take the matter lightly, plotting to assassinate Idris. 10 pm on the day of the incident. Idris left the house at around 30 to smoke a cigarette but did not return till late in the morning. Idris' body was found the next day after a search. After retrieving the body, Zahid quickly fled the scene. Zahid was later arrested with two weapons when the accused were arrested. They confessed that they killed him with a sharp weapon and beat him to death on 24/06/2020 from 12.30 pm to 25/07/2020 at 06 am. Roknuzzaman Biplob and Alamgir Hossain Sumon, the other two accused in the case, testified. The accused were arrested at 3 pm on 26/08/2020 by the police. From 30 o'clock on 25/06/2020 in 06 o'clock in the morning with sharp weapons and beatings, he was killed with serious injuries. Roknuzzaman Biplob and Alamgir Hossain Sumon, the other two accused in the case, testified. The accused were arrested at 3 pm on 26/08/2020 by the police. From 30 o'clock on 25/06/2020 in 06 o'clock in the morning with sharp weapons and beatings, he was killed with serious injuries. Roknuzzaman Biplob and Alamgir Hossain Sumon, the other two accused in the case, testified. The accused were arrested at 3 pm on 26/08/2020 by the police.
After an inquest at Gazipur Shahid Tajuddin Ahmed Medical College, Kapasia Police Station Office In-Charge Mohammad Rafiqul Islam (BP 6996006529) filed a case in the Dhaka Chief Judicial Magistrate's Court. The PBI is currently conducting a final investigation into the case.
Later, after the arrest of Zahid in 2020, the investigation showed that the ammunition seized from him differed from the ammunition purchased by him. According to the purchase receipt, Zahid had bought 150 rounds of ammunition including rifle and pistol but according to the documents at the time of arrest, a total of 72 rounds of ammunition were found. In other words, Zahid could not give a good answer to those rounds. Zahid, who is a saint by profession and political identity, has raised a huge fear that the number of such shots will not match. When Zahid last renews his weapon in 2020, there is a need to check the number of bullets he has, as this will determine the use of Zahid's weapon.
The investigation revealed that in addition to the (licensed) firearms recovered at the time of his arrest in the Idris murder case, Zahid also had an illegal weapon and at least 26 rounds of ammunition that were used with the pistol.
The suspicion is further heightened when the investigation reveals Zahid's absence from his home during the Hefazat riots and the horrific Holy Artisan attack. Although Zahid was arrested in 'Operation Clean Heart' with weapons, he was later released under the auspices of the then BNP-Jamaat government. Extensive evidence of Zahid-Zubair's relationship with BNP-Jamaat politics is found through social media.
Zahid, the No. 1 accused in the Idris murder case, was released on bail. In view of this, Tofail filed a diary (No. 1090) with Ramna Police Station on 20 February 2021. A political leader in Chittagong's Satkania also used Zahid's weapon to spread dominance, which was reported in local newspapers. In addition to all this, during the 2016 national election, despite the provision of arms deposit, Zahid was seen with open arms - which is a criminal offense. At the same time, death threats and attempted killings with licensed weapons are a violation of 'Firearms Licensing, Renewal and Use Policy 2018'. It is to be noted that Zahid has two licensed weapons, one of which is .22 bore rifle (license number 36/24/2012) and the other is NBP 22 pistol (license number 36/13/2018).
Victims, meanwhile, claim that the consideration of Zahid and his associates as a major threat to public safety therefore demands sufficient support. In the light of this, a non-IR case (No. 69/2020) was filed against Zahid calling him a terrorist. Although there are multiple cases in his name, Zahid is perfect in a fake case against his opponent. Zahid has so far filed 12 cases against Sufia Jinnah, most of which have been settled by acquittal. In these cases, not only Sufia Jinnah, but also Abdur Rab Bhuiyan and all those who were found to be involved in her terrorist activities and forcible occupation have been sued by Zahid.
Investigators have found evidence of Zahid's smuggling business outside of terrorist activities. Zahid often traveled to Saudi Arabia on Umrah visas, so there is a hint of his involvement in gold smuggling. Zahid used to trade in illegal and stolen electronics and mobiles first in Magbazar and later in Stadium Market (Shop No. 10/1) under the name of 'Jubayer Jet Vision' in the name of his son. He was also the Acting Editor of 'Barta Bazar', 'Crime of Twenty Four Media' and President of 'Al Mustafa Foundation'. Zahid used to maintain friendships with influential people in the name of these ground breaking news media.
---
---
---