Govt's new vision to build Smart Bangladesh by 2041: DC
---
Md Shah Alom
Published:
2022-12-13 15:43:09 BdST
Update:
2023-05-28 11:35:55 BdST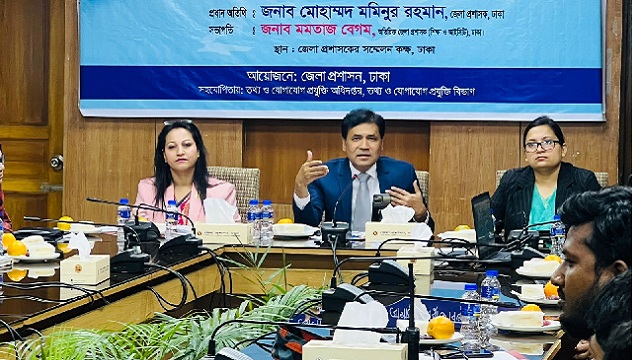 Dhaka Deputy Commissioner (DC) Mohammad Mamunur Rahman on Monday said that government was working to transform the country into 'Smart Bangladesh' from a digital one by 2041.
Bangladesh Day 2022 and distribution of prizes among the winners of competition at the conference room of the Deputy Commissioner on Monday under the theme of 'Progressive Technology, Inclusive Development'.
Additional District Magistrate Momtaz Begum (Education & IT) presided over the function. build Bangladesh as a developed and prosperous country by 2041. That Bangladesh will be a Smart Bangladesh. Government will transform into Smart Bangladesh from the digital one,' he said.
Dhaka Deputy Commissioner (DC) Mohammad Mamunur Rahman said that our government was working to successfully implement the four bases of building 'Smart Bangladesh' that included making smart citizens, smart economy, smart government and smart society.
In the Smart Bangladesh, everything will be done through technology where the citizens will be efficient in using technology and the entire economy will be run through technology, he said.
She added that a huge task had already been done to make the government as well as the society as smart.
Incidentally, in 2008, Awami League wrote in their election manifesto that the goal of 2021 is Digital Bangladesh. At a later time, the Vision-2021 was decided. On November 27, 2017, the Bangladesh government announced the national observance of December 12. Instead of ICT Day on 26 November 2018, it was decided to observe this day as Digital Bangladesh. The day is observed by the Department of Information and Communication Technology on December 12 every year.
---
---
---