Keep children away from terrorism, militancy and drugs: DC
---
Md Shah Alom
Published:
2023-01-02 16:29:30 BdST
Update:
2023-05-28 12:52:20 BdST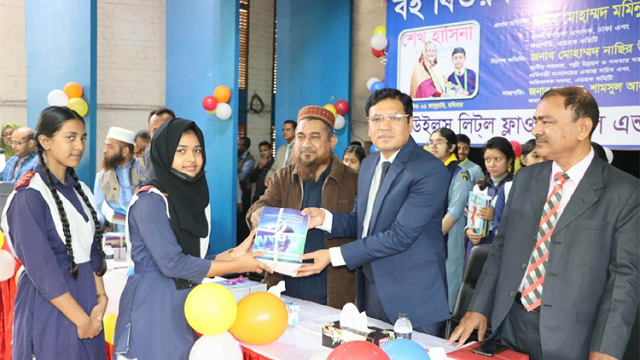 Dhaka District Commissioner Mohammad Mominur Rahman urged all to keep their children away from militancy, terrorism and drug abuse,
He said this while addressing the chief guest at Wills Little Flower School and College premises on Sunday (January 1) around 11:30 am.
In the chief guest's speech, Dhaka District Commissioner Mohammad Mominur Rahman said, the government wants the peaceful atmosphere to prevail in all educational institutions of the country.
he also said January 1 is a very happy day for us. Because, on this day there is a free book festival in the country, which does not happen anywhere in the world. We are proud of that.
He said, not if you don't show gratitude to him. He is the father of our nation Bangabandhu Sheikh Mujibur Rahman. Bangladesh became independent under his leadership. He is the embodiment of our freedom. And his daughter Prime Minister Sheikh Hasina is the embodiment of development. Under his leadership, we dreamed of a middle income country by 2021, which is already a reality. Now we are dreaming of a developed prosperous, hunger and poverty free Bangladesh by 2041. And working towards that goal.
He said to the students, you have to dream. And to realize that dream, you have to study hard.
Addressing the parents, he said that children should be kept away from extremism, militancy, drug addiction and communalism. Because, we have seen in Holy Artisan - children of many decent families are also getting involved in this. So we want our future generation to be free from these. That's why parents should be aware.
This Deputy Commissioner said that there will be many problems and obstacles in life. But don't give up. Another thing is that some of us are good at studies, some are good at sports and some are good at something else. So we should practice the qualities that we have. In this case I would say to the parents, don't pressure the kids.
The book distribution festival was presided over by A.N.M Shamsul Alam Khan, Principal (Acting) of Wills Little Flower School and College.
---
---
---