DU student wrote Qur'an by hand and made a record
---
MD SHAH ALOM
Published:
2021-10-17 17:03:39 BdST
Update:
2023-12-11 22:28:34 BdST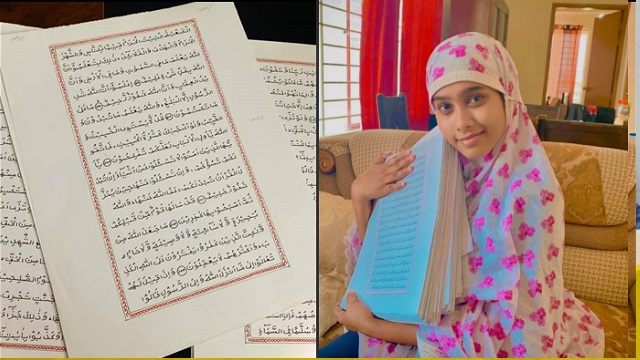 Dhaka University student (DU) and former bangladesh Student leader (BSL) Jarin Tasnim Diya became the first Bangladeshi woman to write the Holy Quran in her hand. After a year and a half of continuous efforts, he has written 30 verses of the Qur'an by hand. He is currently a member of the Awami League's subcommittee on information and research.
But Jarin did not go to madrasa . But he has written this Qur'an, the holy scripture of the Muslims, in just one and a half years with the proof that it cannot be stopped if there is will power. For this, of course, he had learned Arabic before.
Regarding writing the Holy Qur'an by hand, Jarin Tasnim said, "I was under house arrest in Korona and I was thinking of doing something." Death all around, a fear was at work. Then I will do something that comes to my mind which is the path of the hereafter. I dare to write Arabic letters with that thought in mind. I have never studied in a madrasa. But I knew how to read and write Arabic letters. I have written one word at a time in the Qur'an to further that teaching. It took me a year and a half to write the whole Qur'an. I will give this Quran to Sharif Islamic Foundation. If there is any mistake, they will certify it and give me a few copies. I will give it to different madrasas. '
Besides, the A-League leader has given status to the issue on her Facebook account.
Jarin Tasnim writes on Facebook, "People have many hobbies in their short life. Makes the impossible possible. I also had a great hobby since childhood to write the Holy Quran Sharif (30 para) by hand. And today it has become possible. Today I am successful in the efforts of the last year and a half. This initiative of mine started in the year 2020 when we were all under house arrest. That's when learning to write. And I was not a student of any madrasa. That said, everything is possible if you want and if you have patience. The best achievement of my life is the handwritten Holy Qur'an (paragraph 30). Some feelings cannot be expressed in words. Millions of thanks in the court of Allah Ta'ala. It was possible for me to write the entire Qur'an by hand because he wanted to. I want to make some copies of this handwritten Holy Quran and give it to different mosques and madrasas. May Allah accept that. Everyone will pray for me. '
---
---
---