5 members of Swechchhasebak League expelled for violating discipline
---
Published:
2020-10-26 17:49:21 BdST
Update:
2023-12-11 21:38:43 BdST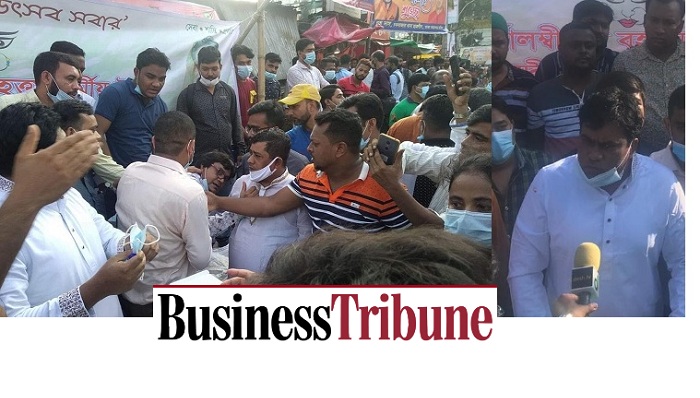 Five members of the Bangladesh Awami Swechchhasebak League have been expelled from the organization for breach of discipline. They are Khaled Raju, Hridoy Ahmed, Jasim, Faruk and Ripon, leaders of Lalbagh Thana Swechchhasebak League in the capital. at this time Several people were injured.Everyone is a loyal follower of Tariq Saeed
Two groups of supporters clashed of Dhaka Metropolitan South Swechchhasebak League general secretary Tariq Saeed Followers, while distributing free masks, hand sanitizers and other items at the Dhakeswari temple on Sunday (October 25th) evening.
According to eyewitnesses, the onset of the clash was centered around standing close to senior leaders. Lalbagh police vice-president Khaled Raju, Ake Azad Khan Biplob and Iqbal clashed over the issue. Everyone is a loyal follower of Tariq Saeed.
Meanwhile, it is also known that Azad Khan Biplob used to do the BNP at one time. And there are allegations of extreme misconduct with leaders at the field level.
AKM Afzalur Rahman Babu, General Secretary of the Central Committee of the Awami Swechchhasebak League was present there at the time. He expressed anger over the incident.
Leaders and activists said that the supporters of Tariq Saeed, general secretary of the Swechchhasebak League Dhaka Mahanagar south, are often in the headlines. This is tarnishing the image of the organization. They also clashed at the Institute of Engineers in Kakrail last August.
He was embarrassed when the incident took place in front of the joint general secretary of the Awami League and the founding president of the Swechchhasebak League, AFM Bahauddin Nasim. In that incident, Shahbagh police station and its 20th ward committee were suspended that night.
---
---
---