Tanjil Bhuiyan Tanvir elected as member of Jubo League
---
Published:
2020-11-17 09:09:32 BdST
Update:
2023-09-22 03:15:58 BdST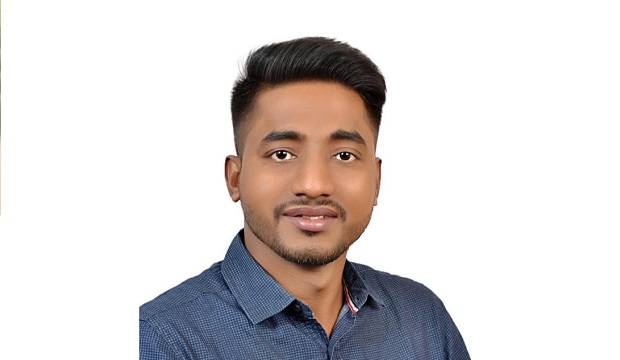 Tanjil Bhuiyan Tanvir, a young politician, former student of Dhaka University and former senior vice-president of Chhatra League, has been nominated as a member of the newly announced central committee of Bangladesh Awami Jubo League,
Awami League General Secretary and Minister for Road Transport and Bridges Obaidul Quader announced the full committee of the Jubo League on Saturday (November 14).
Tanjil Bhuiyan Tanvir said, "I am grateful to Prime Minister Sheikh Hasina and the central leaders for nominating me as a member of the Central Committee of the Juba League."
He said, "I will try to build the golden Bengal of Bangabandhu's dream by using the opportunity they have given me to work for the country and the party by giving me a place in the committee." I will work relentlessly to strengthen the hand of Bangabandhu's daughter.
Tanjil Bhuiyan Tanvir, a meritorious and hardworking student leader of Dhaka University, was the former International Affairs Secretary of Shaheed Sergeant Zahurul Haque Hall, the former Deputy Secretary of Public Relations of Bangladesh Chhatra League and the Organizing Secretary.
Admitted to Dhaka University in the 2006-07 session, Shaheed Sergeant Zahurul Haque Hall started the politics of Chhatra League. Prior to the 2008 elections, Zahurul Haque Hall was seriously injured in an attack by the Chhatra Dal. Shaheed Sergeant Zahurul Haque Hall is the former International Secretary of Chhatra League. Desh Ratma Sheikh Hasina nominated former Deputy Mass Communication Secretary of the Central Executive Parliament of Bangladesh Chhatra League while she was the candidate for the post of President of Shaheed Sergeant Zahurul Haque Hall. On September 10, 2012, his comrades-in-arms took a strong stand against the terrorist activities of Chhatra Dal. Which has been printed in various newspapers with pictures. Tanvir was made one of the accused in the false and conspiratorial case filed by Chhatra Dal on September 11, 2012. Also from the forefront of Chhatra League on 29 January 2013 under the leadership of Dhaka University Branch Chhatra Dal President Mohidul Hasan This Tanvir resisted the Chhatra Dal when the procession of the Chhatra Dal entered the campus and carried out terrorist activities, which were published in various newspapers and magazines with pictures. He took an active part in the anti-Hefazat movement on May 5 of that year when the so-called leaders of Chhatra League covered the village at a difficult time in Awami League. When Tanvir's picture was published in newspapers while he was resisting custody, Chhatra Shibir threatened to kill him at different times. Tanvir also made a general diary in this regard at Shahbagh police station.
---
---
---