Daydreaming overthrowing government' by issuing Sinha incident'
---
Published:
2020-08-07 20:50:05 BdST
Update:
2023-09-22 03:07:46 BdST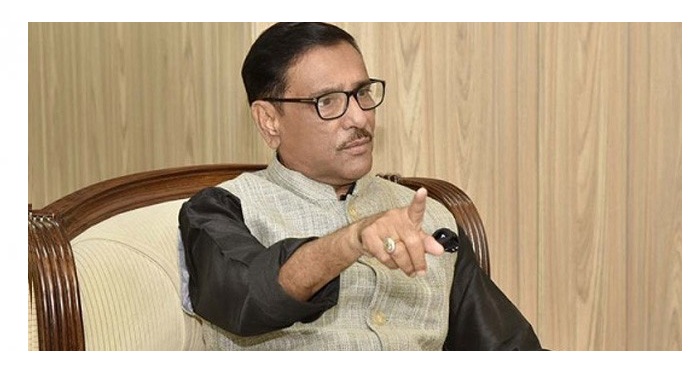 Retired Major Sinha Mohammad Rashed Khan shot dead by police in Teknaf, Cox's Bazar by issuing this incident' Some are daydreaming overthrowing governmentt' Awami League General Secretary and Road Transport and Bridges Minister Obaidul Quader said.
He made the remarks in a video conference from his residence in the Jatiya Sangsad Bhaban area on Friday (August 6th). The Minister had a video conference with Khulna Zone as part of regular discussions with various zones of the Roads and Highways Department.
Obaidul Quader said that a vicious circle is engaged in spreading rumors and propaganda on various issues. Some are trying to provoke the two forces over the tragic death of former army member Sinha Mohammad Rashed. People are aware of these issues. Some are dreaming of removing the government by issuing such incidents.
The general secretary of Awami League said, the roots of Sheikh Hasina government are very deep in the soil of this country. There will be no benefit in spreading rumors and propaganda. You have seen that The government is very sincere in this regard.
The legal process has already begun. The investigation committee is already working to uncover the real facts through proper investigation. Many have been arrested. I urge those concerned at home and abroad to be vigilant in stopping rumors and propaganda through social media.
The Sheikh Hasina government will not hand over the issue to anyone. The issue has been addressed through immediate action,
He said coronavirus infections have re-emerged in different parts of the world. Although the country has been in a certain trend for a few weeks, the rate of infection is also increasing this week with the increase in sample testing. Again, many are showing symptoms but are not testing the sample. Neglect of tests, laxity of hygiene can make our ongoing situation risky at any time.
The Minister of Road Transport said that this time the problem of ferry wharf and travel on all the highways except Dhaka-Tangail highway was comfortable. I thank the engineers, including the law enforcement agencies, the district administration, the transport owners and the workers' organizations. I am requesting the transport owners and workers to drive carefully in compliance with the traffic laws to prevent road accidents on the return journey. I also call on the law enforcement agencies, especially the highway police, to continue their surveillance.
---
---
---