MP Mozaffar took charge of language soldier Kayes
---
MD SHAH ALOM
Published:
2022-02-24 21:18:21 BdST
Update:
2023-09-22 03:38:13 BdST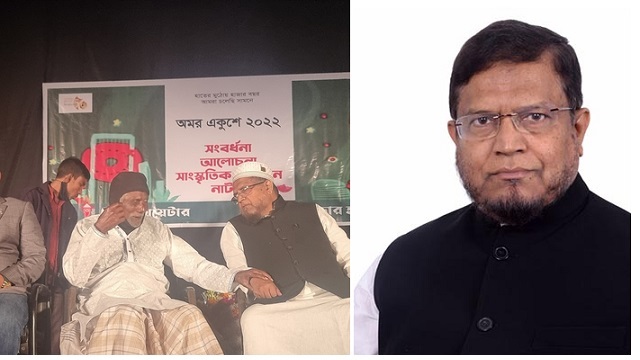 Language soldier Kayes Uddin took responsibility for the life of Jamalpur-5 Sadar MP Heroic freedom fighter Engineer. Mozaffar Hossain. Amar Ekushey 2022 reception discussion and cultural program in Jamalpur took charge of kayes uddin
Heroic Freedom Fighter Engineer. Speaking as the chief guest, Mozaffar Hossain said, "As long as the language soldier Koyes Uddin lives, I will bear all the expenses of his maintenance and whatever it takes, Inshallah!"
He also said at the time, February 1952 Uttal Dhaka, movement demanding procession of state language Bengal, procession The police fired, but the language soldiers did not retreat On the contrary, it has gone ahead, given blood, saved the mother tongue Bengali So I am proud to have such a language soldier by my side.
At the same time, he demanded state recognition and status as a 'language soldier' ​​of the great language movement like the freedom fighters. In addition to state recognition, he also demanded that the government introduce an allowance for these language soldiers.
He also called upon the government to protect the sanctity of the Shaheed Minar throughout the year and to preserve the historical sites of the language movement.
He said that they have started language movement to protect the rights and dignity of mother tongue. Therefore, their recognition is needed to highlight the history of the language movement and the contribution of the language martyrs.
---
---
---